I'm so excited to be back home in MN! From March 25 - April 13 I spent only one night at home in my own bed. It was a ton of fun but that is a long time for me to be away. I went to Cabo, Phoenix, and then to FL where I got to recover while hanging out with my sister and my 4 week old nephew. I miss feeding, smooching, and snuggling with my nephew so much but am happy to back in my routine and with my dogs, I wish they were closer so I could see them daily!
IM Cabo was HOT HOT HOT compared to our frigid MN winter but I am so happy with my race! Right after Kona I started coaching myself for the first time ever since I began triathlons and I love it! I have an account for myself through Fox Endurance & plan my training in advance after all my other athlete's plans are written. I am Fox Endurance's least important client. Structured training is key! Whether you are coached or uncoached if you fail to plan, you plan to fail. This is why I highly recommend personalized coaching and I treat my own training like one of my coached athletes, every workout has a purpose, is planned in advanced and can be changed if needed. So making my own training plan for this IM made the result that much more special.
Love this pic that Nick Morales took of the Cabo swim start. If you think a waist deep IM start is brutal, try the IM beach start for a real beat down!
I wrote a race report for MN Tri News
here
& MN Tri New also posted their own recap
here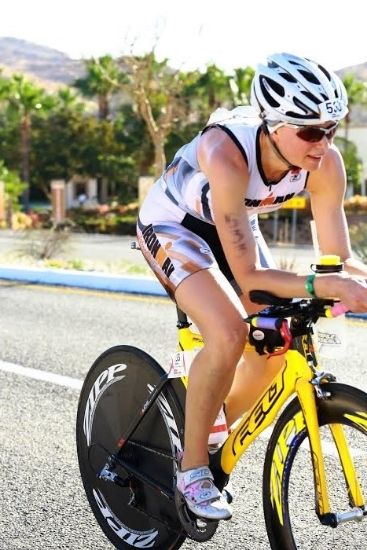 Here is a pic that was taken on the bike course and you can see the Chamois Cream caked on my shoulder (see race report)
I dropped my salt somewhere on the run course and noticed it was missing at mile 14. I went from mile (at least 14) to 21 without salt which is a long time on a hot day. I began to cramp in a few places in my legs and slow down a little. Mo was at mile 21 & I yelled to him that I lost my salt. A male racer overheard and told me his race was over because of the heat and he was going to walk/jog it in. He told me to take all of his salt and his fancy container and finish strong. That was just the nicest thing, I will never forget that moment. About 5 mins later Mo popped out of nowhere with some salt for me as well. I felt so fortunate and got some renewed energy from the kindness of the human spirit. It's no secret that I was disappointed with my marathon in Kona so I went to Cabo to run! I so badly wanted a second chance to prove to myself that I CAN race long course in the heat, yes I can. And I can even train for it in the coldest winter I've ever lived through. I believe I had myself in sub 3:30 off the bike shape. The heat was intense and got hotter and hotter each loop. I ran my heart out and will take a 3:41 in those conditions.
They had the awards ceremony and Kona sign up in Cabo but the host hotel, finish line, swim start, packet pickup and basically everything else including our house was in San Jose, about a half hour away. We went to 2 different places in San Jose but couldn't find it. There are no addresses in Cabo you just describe where things are. You also had to pay in pesos for your slot which exceeded the daily maximum peso withdraw limit and they took no other form of payment or currency. A person would have to plan way ahead to take a Kona slot by renting a car and withdrawing a ton of pesos over a two day period then hope to qualify. Probably best not to have been tempted to go to Kona as I'm racing my favorite IM in September in Madison in front of the best spectators!
I will leave you with this funny video to watch, enjoy!!!