I'm SUPER EXCITED to let everyone know that I started my own coaching business!
More details coming soon, I'm all set up and I can't wait to better serve my athletes! Stay tuned...
Kona-
Time flies! Here it is the end of Feb and I'm in my build for my next Ironman but haven't yet written a word about Kona. I have never felt worse during a race in my entire life but my rule for Kona was that if I was still breathing I was going to finish! And I was still breathing, BARELY, so I finished :-) It was a long brutal day filled with blood, sweat, tears, cramps galore and insane sunburn but I have chosen to only remember, write about and take away the positive moments. The week leading up to the race was so much fun! I can not thank Pam Neilsen enough for taking me under her wing and showing me the ropes. We had a blast swimming to the coffee boat in the ocean, meeting Chrissie Wellington, running in our undies, and doing all things pre-Kona race week together, it wouldn't have been anywhere near the experience it was without Pam. The underwear run was a hilarious spectacle and I am so glad I participated!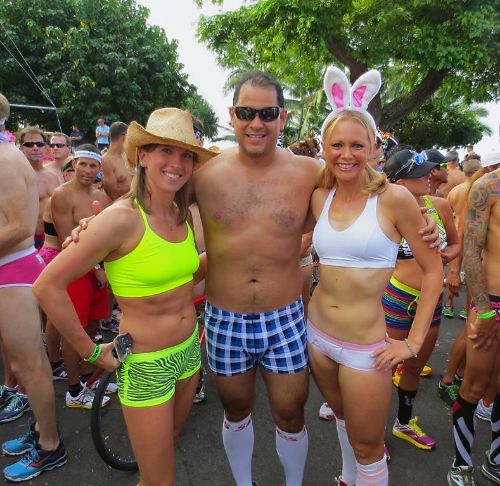 As far as the actual race I want to only remember; the thrill of the helicopters overhead & the constant media frenzy filming the pros, being covered in salt & blood all day & the deep internal fight to finish a tough race on a rough day, the beautiful ocean swim course, seeing Hines Ward on the run on the Queen K, the sweet sweet taste of ice cold cola on the marathon and most importantly seeing the other fabulous MN athletes kicking butt out there, you all make me proud to be a MN triathlete! It was beyond inspiring to see Michelle Andres on a tear as she made MN history becoming the first woman to break 10 hours in the IM! The absolute highlight of the day was that my parents rented a car and drove 112 miles through lava field back roads from Kona to Hawi and back just to cheer me on for 15 seconds at the bike turn around, I felt like the luckiest girl in the world!


I've never been on a vacation alone with my parents so our 10 days in Hawaii were truly special. We had the most wonderful time exploring Kona and Hilo, hiking, checking out several beaches and caves, eating fresh seafood, shopping, going to local farmer's markets and snorkeling with manta rays. Everyday felt like Christmas, we took a zillion pictures, and I will remember our trip for the rest of my life.
I spent Thanksgiving and Christmas with my family in FL. B and I brought our bikes down for 11 days over Christmas and we got in a 30 mile, two 50 mile, a 70 mile, and an 85 mile ride, 5 yoga classes, some solid running and one ocean swim. Right after our first swim we were informed that the Space Coast Beaches are the shark capital of the world and that quickly put an end to swimming!

I've done 3.5 running races so far this year. The .5 is because B, my dad and I did a 5K on New Year's Eve in FL and the race started at 11:45pm, so unless you are crazy fast the point was to start the race in 2013 and end in 2014. Ringing in the New Year on the run with fireworks was perfect!

I also did the MDRA Meet Of The Miles and the Securian Half Marathon in "feels like" -22 with 20 MPH wind in Jan the day after a snowstorm. It was not a day for fast times but I felt tough for being out there and they had fireworks at the start! Last weekend I did The 10 Mile Sweetheart Run in "feels like" -6 and the race was almost entirely on snow and ice, not exactly PR conditions or Cabo training weather but a great workout!
More on Ironman Cabo San Lucas, my coaching company, and my 2014 plans to come soon in future posts. I hope to keep my blog updated often this year and turn it into a mix of a coaching resource as well as some personal/race updates.
Hope everyone in the frigid mid-west is surviving and if you are somewhere warm PLEASE let me know if you have room for 2 Chihuahuas, 2 bikes, and me to move in until mid May!